Description
Sunlu S1 Filament DryerReady SG Stock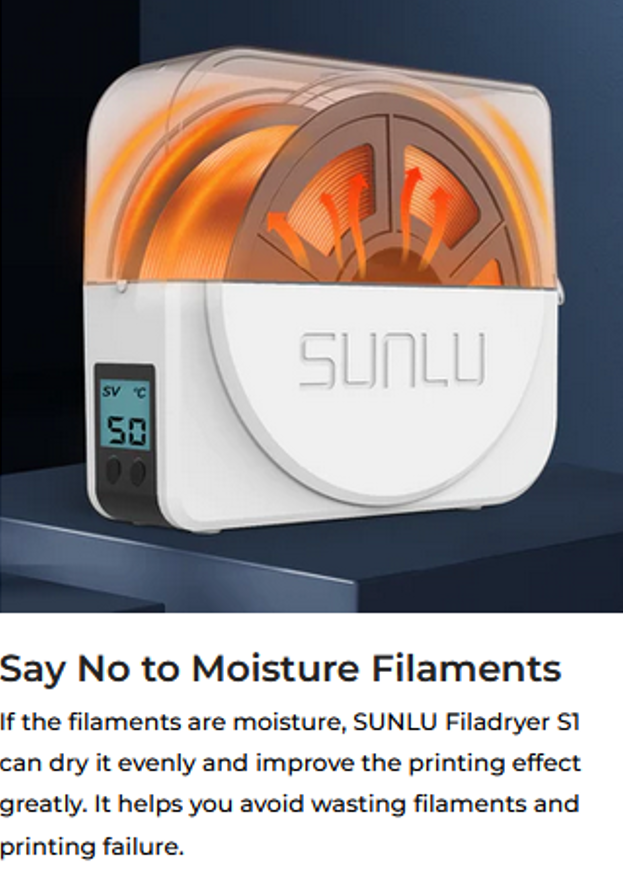 — Say Goodbye to Poor 3D Printing because of Wet Filament
Wet 3d printing filament will cause stringing, clogging, poor adhesion, and Layer Shift. SUNLU FDM 3D Filament Dryer Enclosure can dry while printing. Saving time, while improving 3D printing quality.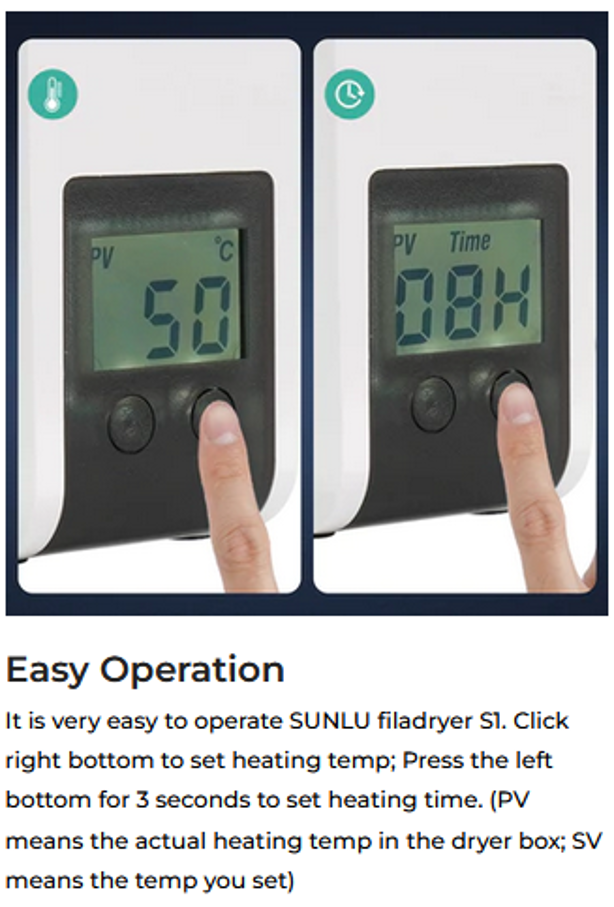 — Personalized Temperature Settings
Users can adjust the temperature of the drying box according to different 3d filament type, ambient temperature, humidity and other factors. Adjustable temperature ranges from 35℃ to 55℃. Suitable for more than 20 kinds of 3d printing filament commonly found in the market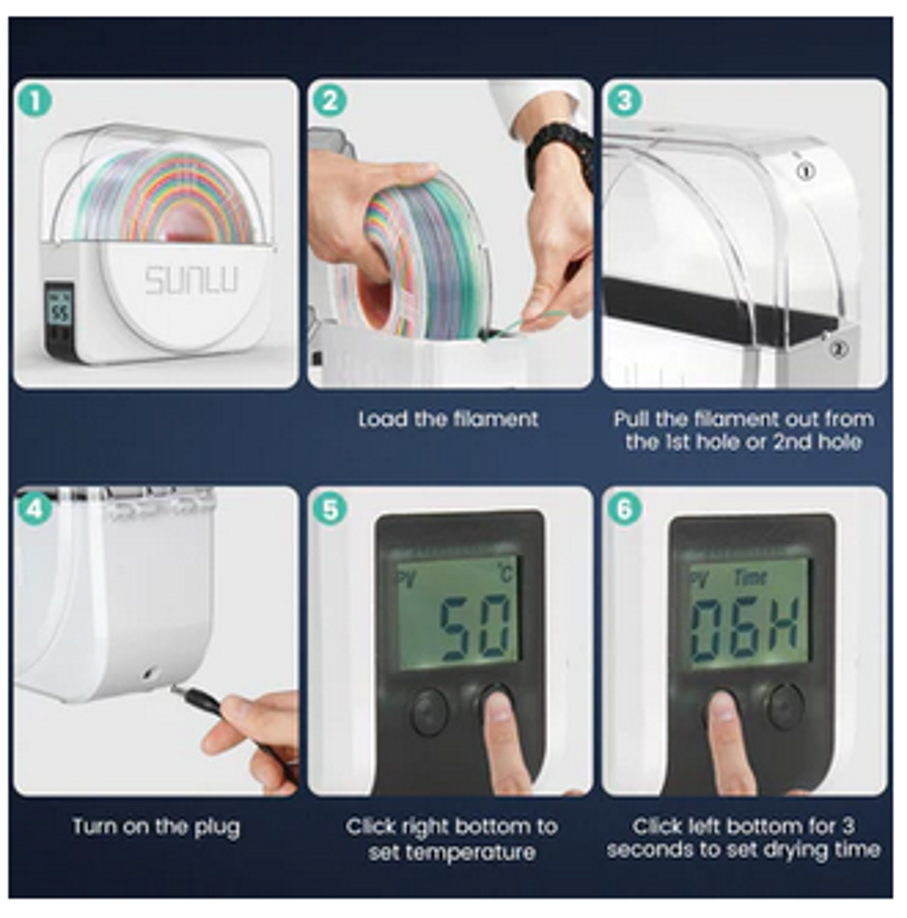 — Personalized Drying Time Settings 
The default continuous drying time of the drying box is 6 hours, and you can also manually set the drying time. The time setting range is 0-24 hours. Commonly used 3D filament on the market under normal circumstances only need 3-6 hours of drying to achieve a good printing experience and printing quality.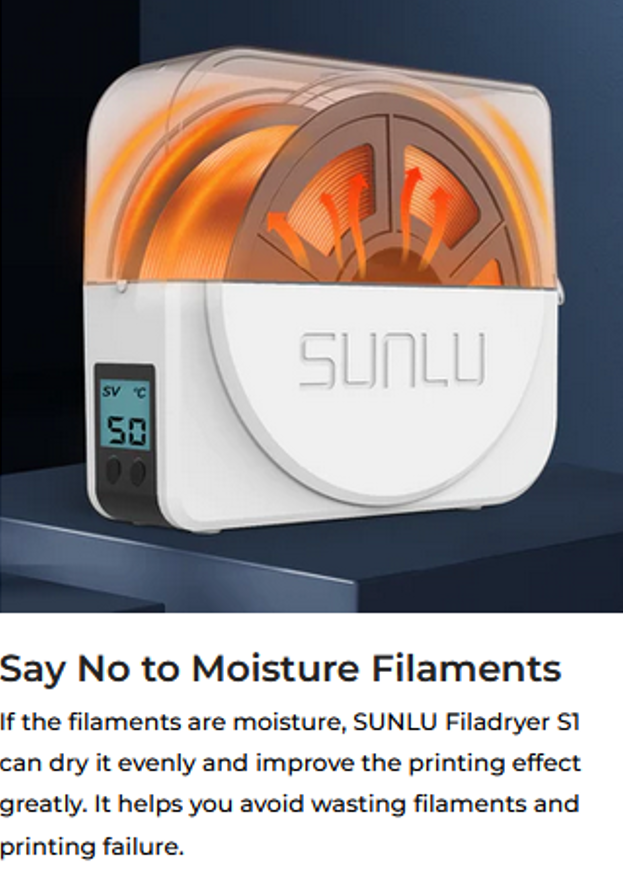 — Compatible with 99% of 3D Filament Spools
Maximum capacity of SUNLU dry box is 210*85mm. Compatible with all the mainstream 3D filament brands like Sunlu, Esun and etc.. It also works perfectly with all standard filament with diameters 1.75mm/2.85mm/3.00mm.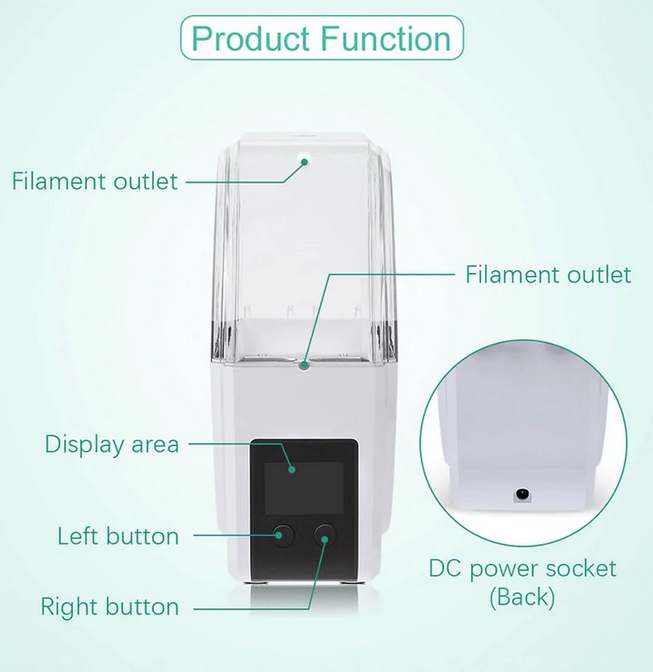 — User-friendly Design 
The design of two rollers inside the box allows you to print while drying; The large 2-inch screen LCD monitor can display temperature and relevant info clearly and brightly. Quiet design, less than 10db while operating.
—–
Specifications
Compatible with multiple filament diameters (1.75mm / 2.85mm / 3mm)
Adjustable temperature setting: 35 to 55 degree Celsius
Dual temperature probes to measure and display the temperature of the cabinet and heating plate
Heats up quickly and evenly with the built in fan.
Real-time display of humidity
Time function to set heating time
Product size: 271x100x237mm.
Max filament spool Width size: 8cm
Max filament spool Height size: 21cm
Plug supplied: UK/ SG 3-pin plug.